Welcome to our guide on hosting the perfect Canadian summer pool party! From planning to execution, we've got you covered with all the essential tips and ideas to ensure your guests have an unforgettable experience.
With the sun shining and summer in full swing, there's no better time to throw a pool party. Whether you're celebrating a special occasion or simply want to enjoy the warm weather with family and friends, planning a pool party can be an exciting and rewarding experience. However, it can also be overwhelming if you don't know where to begin.
That's where we come in! Our team of experts has years of experience in pool party planning and is here to guide you every step of the way. From choosing the right theme to organizing fun games and activities, we'll help you create an event that your guests will be talking about for years to come.
Key Takeaways:
Pool parties are perfect for celebrating Canadian summers with family and friends.
Proper planning is essential for hosting a successful pool party.
Our team of experts is here to help guide you through every step of the process.
Choosing the right theme and decorations can transform your pool area into a festive paradise.
Pool party games, activities, food, and safety measures are crucial in ensuring a fun and secure event for everyone.
Choosing the Right Pool Party Theme
Welcome back to our guide on hosting a memorable pool party! Now that you've got a general idea of what you want your pool party to look like, it's time to start thinking about the theme. Choosing the right theme can make a huge difference in creating the perfect Canadian pool party atmosphere. Here are some of our favorite pool party themes:
| Theme | Description |
| --- | --- |
| Tropical Luau | Bring the tropical vibes to your pool party with a Hawaiian-themed luau! Think colorful leis, tiki torches, and fruity cocktails. |
| Beach Bonanza | Transport your guests to the beach with this fun theme! Set up beach umbrellas, beach balls, and even sandcastles around the pool area. |
| Under the Sea | Dive into an underwater adventure with this aquatic theme! Use blue and green decorations, mermaid tail floats, and sea creature props to create a magical ocean oasis. |
These are just a few examples of the many pool party themes you can choose from. Remember to pick a theme that suits your taste and your guests' preferences. Don't be afraid to get creative and mix and match different themes!
Stay tuned for our next section where we'll be sharing essential pool party decorations to bring your chosen theme to life.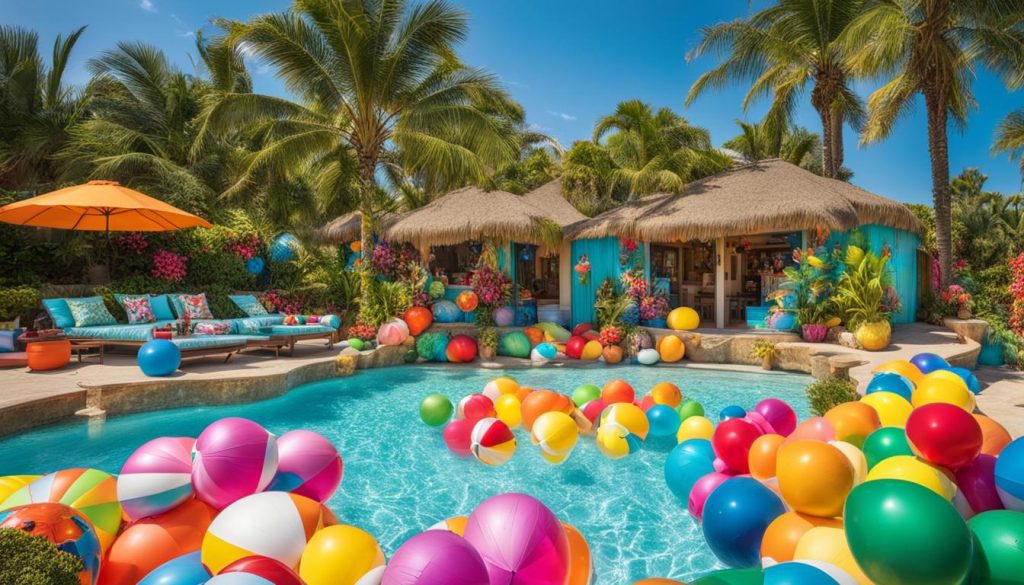 Essential Pool Party Decorations
Decorations are what give a party its atmosphere and character, and a pool party is no exception. With the warm Canadian summer breeze and sunshine, you'll want to create a fun and festive environment for your guests. Here are some essential pool party decoration ideas for your Canadian summer party:
| Decoration | Description |
| --- | --- |
| Pool Floats | Fun and colorful pool floats are a must-have for any pool party. From giant flamingos to whimsical unicorns, floats come in all shapes and sizes. Provide enough floats for your guests to lounge and play in the pool. |
| Beach Balls | Beach balls are a classic decoration for any Canadian summer pool party. They come in various sizes, colors, and designs, and can be used for pool games or as simple decorations. Scatter them throughout the pool area for added fun. |
| Banners and Garlands | Hang colorful banners and garlands around the pool area to add a festive touch. Use summer-themed decorations such as shells, starfish, and palm trees to really capture the spirit of a Canadian summer party. |
| Tiki Torches | For an extra tropical vibe, add tiki torches around the pool area. They provide a warm and inviting glow as the sun starts to set, and the flames dancing in the breeze create a cozy atmosphere. Remember to keep them away from the pool to avoid any accidents. |
| Outdoor Lighting | Hang twinkling fairy lights around the pool area to create a magical atmosphere. They can also be hung from trees or on fences to provide additional lighting as the sun goes down. Make sure to use outdoor lighting that is waterproof and safe. |
These are just a few ideas for pool party decorations to help you create the perfect Canadian summer party atmosphere. Remember to keep safety in mind when setting up decorations around the pool, and to have fun!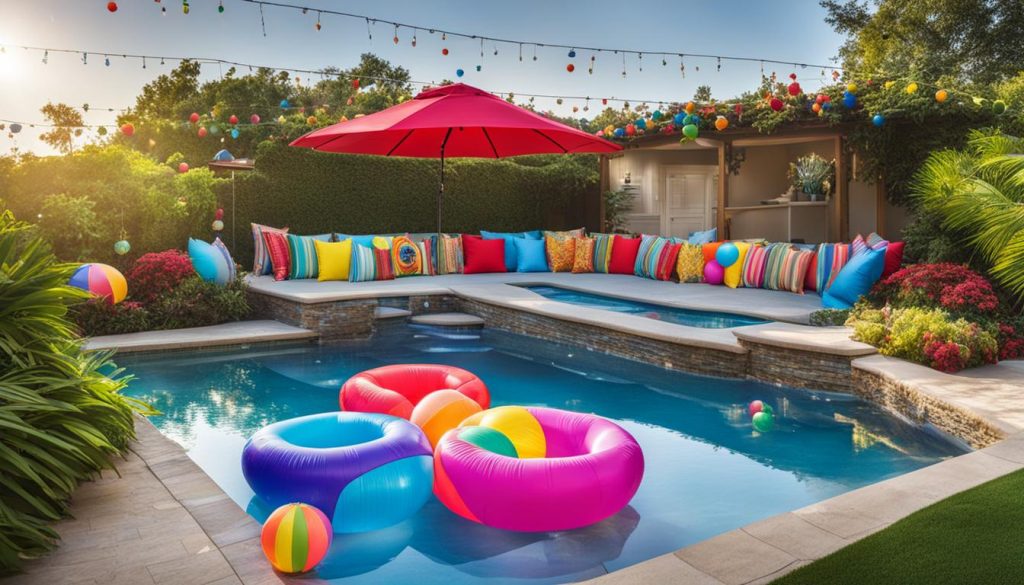 Planning Pool Party Games and Activities
At a pool party, games and activities are the perfect way to keep your guests entertained and having fun. Whether you're hosting a Canadian pool party for adults or kids, there's bound to be something everyone will enjoy. Here are some of our favorite pool party games and activities:
| Game/Activity | Description |
| --- | --- |
| Water Balloon Toss | A classic game that involves tossing water balloons back and forth. Participants stand in a circle and toss the balloon to the next person, taking a step back with each successful catch. The person who doesn't catch the balloon and gets wet is eliminated until one person remains. |
| Pool Volleyball | A fun game that requires players to split into two teams and hit an inflatable ball back and forth over a net in the pool. This game is perfect for adults and kids alike and can get competitive and exciting. |
| Marco Polo | A classic pool game that's perfect for kids. One person is "it" and must keep their eyes closed while calling out "Marco." The other players must reply with "Polo," and the person who is "it" tries to find and tag them. The game continues until the person who is "it" successfully tags another player. |
| Paddleboard Races | This game is great for adults and kids who are comfortable using paddleboards. Participants race against each other on paddleboards across the pool, and the first one to the other side wins. Make sure to provide appropriate safety gear, as falling off a paddleboard can be dangerous. |
These are just a few examples of the many pool party games and activities you can plan for your Canadian summer bash. Remember to choose games that are appropriate for your guests' ages and swimming abilities and provide proper supervision to ensure everyone stays safe and has a great time.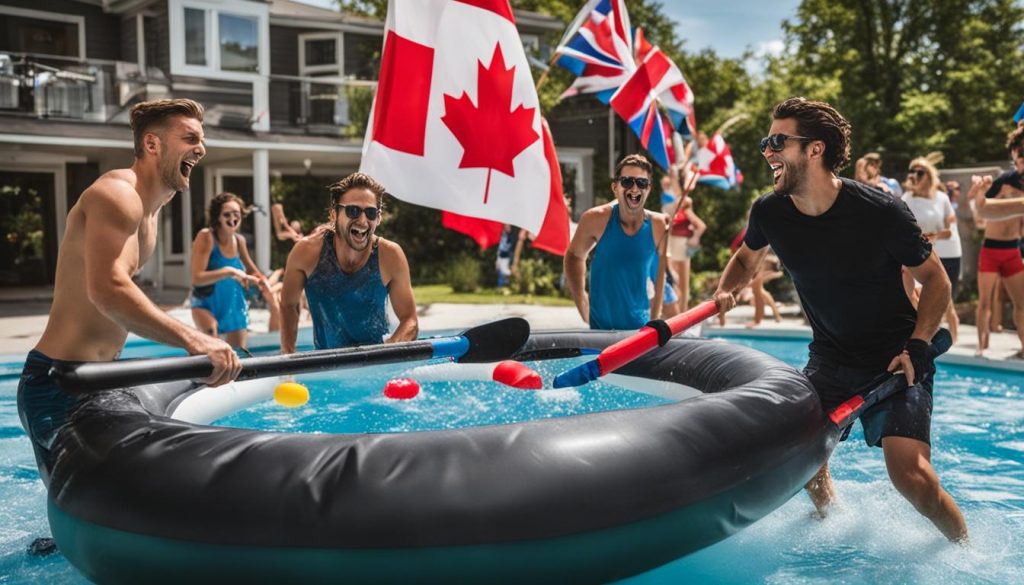 Delicious Pool Party Food and Refreshments
At our pool parties, we know that good food and refreshing drinks are a must-have. That's why we've compiled a list of tasty and easy-to-make pool party food ideas that are perfect for a Canadian summer gathering. Whether you're hosting a BBQ or a cocktail party by the pool, these snacks and refreshments are sure to please your guests.
BBQ Delights
Grilled burgers, hot dogs, and chicken kabobs are classic BBQ favorites that are perfect for a pool party. For a healthier option, try grilling veggie burgers or portobello mushroom caps. Don't forget the sides, like potato salad, coleslaw, and corn on the cob.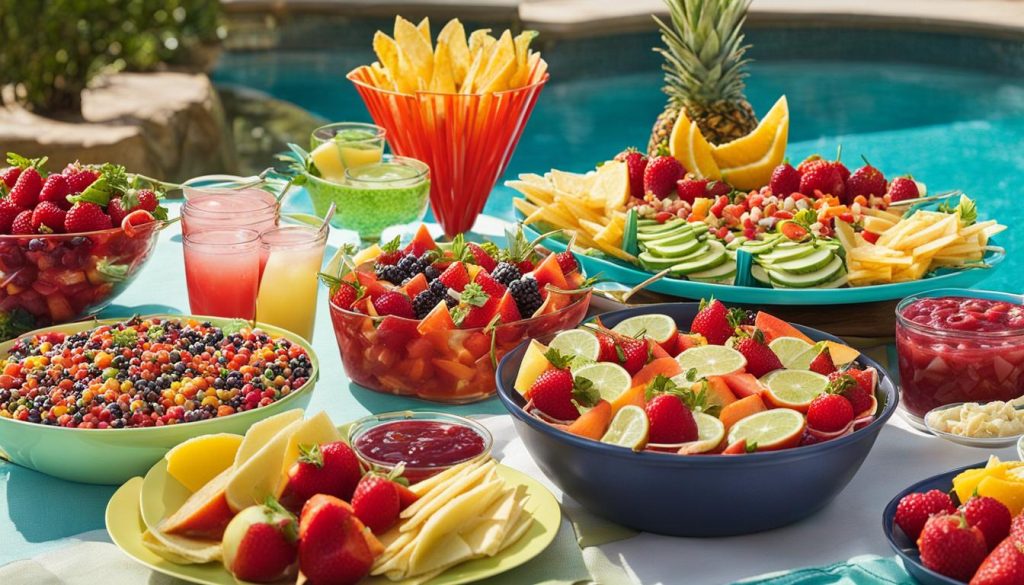 Refreshing Summer Snacks
On a hot summer day, there's nothing better than cooling off with some refreshing snacks. Why not try serving up some fruit skewers or watermelon slices? Or make some homemade salsa and serve it with tortilla chips. For a sweet treat, freeze some grapes or make your own fruit popsicles.
Cocktails and Mocktails
No pool party is complete without some delicious drinks. Whether you're serving up cocktails or mocktails, there are plenty of options that are perfect for a Canadian summer. Try making some frozen margaritas or piña coladas, or serve up some lemonade or iced tea for a non-alcoholic option.
With these pool party food ideas, your guests are sure to have a great time by the pool. So fire up the grill, chill the drinks, and get ready for some summer fun!
Safety Tips for a Fun and Secure Pool Party
At our company, we prioritize safety above everything else when it comes to pool parties. Here are some essential tips to ensure your Canadian pool party is a safe and enjoyable experience for all.
| Tip | Description |
| --- | --- |
| 1. Supervision | Always make sure there is a designated adult supervisor present when guests are using the pool, especially children. This person should be responsible for keeping a watchful eye on the pool area and ensuring guests are following the rules. |
| 2. Pool Rules | Clearly outline and communicate the pool rules to all guests before they enter the water. Rules should include no diving in shallow areas, no running or horseplay, and no glass containers near the pool. |
| 3. Sun Safety | Encourage guests to wear sunscreen and provide shaded areas for those who need a break from the sun. Consider providing hats and sunglasses as well. |
| 4. First Aid Kit | Keep a well-stocked first aid kit nearby, including items such as band-aids, antiseptic, and cold packs. Make sure all guests know where the first aid kit is located. |
| 5. Emergency Preparedness | Have an emergency plan in place in case of accidents or injuries. Make sure all guests know the plan and have access to emergency contact information. |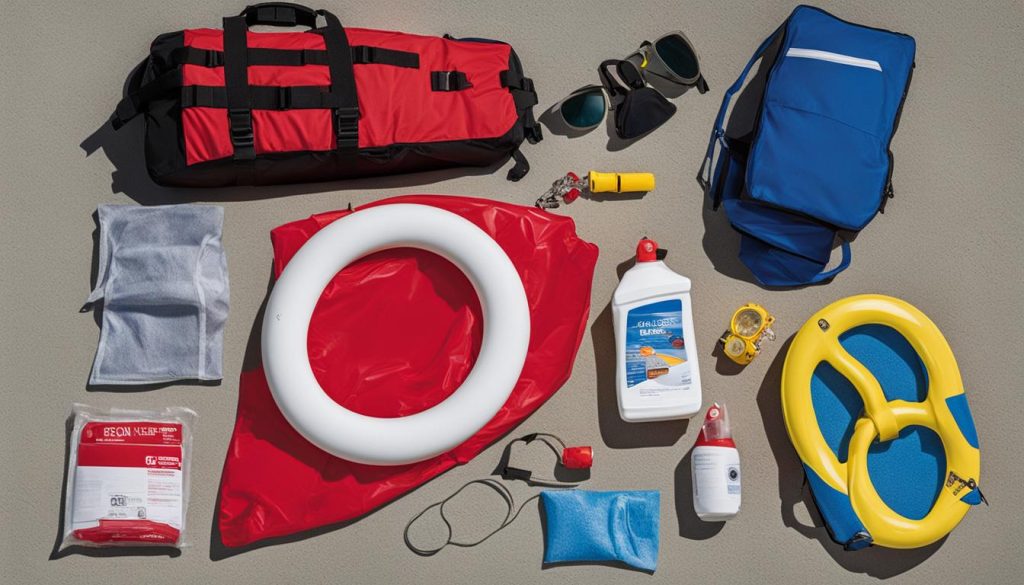 By following these safety tips, you can ensure a fun and secure Canadian pool party for everyone. If you have any further questions or concerns about pool party safety, feel free to contact us at (647) 812-7736. We are here to help you have a memorable and safe pool party experience.
Contact Us for Your Pool Party Needs
Planning a pool party can be stressful, but it doesn't have to be. Our team at Pool Installers is here to help you organize the best Canadian pool party that your guests will talk about for years to come. We understand that every pool party is unique and requires a personal touch, which is why we offer customized pool party planning services to fit your needs.
Whether you need assistance with selecting the perfect pool party theme, decorations, or food and refreshments, we've got you covered. We will work with you every step of the way to ensure that your pool party planning runs smoothly and stress-free.
Our Pool Party Planning Services Include:
Assistance with selecting the perfect pool party theme
Decoration ideas and setup
Food and refreshment planning and catering
Pool games and activities selection and setup
Expert advice on pool party safety measures
Pool party planning can be a lot of work, but with our help, you can sit back, relax and enjoy your event. Our team has years of experience in planning Canadian pool parties, and we know exactly what it takes to make them memorable. Contact us at (647) 812-7736 today to learn more about our pool party planning services and let us help you plan a fantastic Canadian pool party.
FAQ
Can you provide any tips for choosing the right pool party theme?
Absolutely! When choosing a pool party theme, consider the preferences of your guests and the overall ambiance you want to create. Some popular Canadian pool party themes include tropical luau, beach bonanza, and Canadian wilderness adventure.
What are some essential pool party decorations?
To create a festive atmosphere, consider using colorful pool floats, vibrant banners, and themed tableware. Additionally, string lights, tiki torches, and beach-themed props can add a touch of magic to your pool party.
What are some fun pool party games and activities?
There are plenty of entertaining games and activities you can incorporate into your pool party. Some ideas include water balloon toss, pool volleyball, treasure hunts, and even a limbo competition. Remember to choose games that are suitable for all ages and swimming abilities.
Can you suggest some delicious pool party food and refreshments?
Of course! For a Canadian summer gathering, consider serving BBQ delights like grilled burgers and hot dogs. Fresh fruit skewers, veggie trays, and refreshing fruit popsicles are also great options. Don't forget to provide a variety of chilled beverages for your guests to enjoy by the pool.
What safety precautions should I take when hosting a pool party?
Safety should always be a priority. Ensure there is adequate pool supervision, especially if children are present. Provide life jackets or flotation devices for those who aren't strong swimmers. Additionally, have sunscreen available and encourage guests to stay hydrated to prevent heat-related issues.
How can I reach out for assistance or further questions about my pool party planning?
If you need any help or have additional questions, feel free to contact us at (647) 812-7736. Our team at Pool Installers is here to assist you in organizing the best Canadian summer bash by the pool.